Pádraic Reaney was born in Carraroe, Co. Galway in 1952.He studied Fine Art at Galway, Regional Technical College encouraged by the well-known sculptor Oisín Kelly and has been a full-time artist since leaving college. He painted for several years in Galway; later he built a studio in Moycullen, where he now lives and works. He has exhibited extensively in Ireland, Scotland and Wales and his work is in public and private collections in Ireland as well as in Europe, Canada, USA, Brazil, Japan, South Africa and Australia. His work is held in collections such as the Modern Irish Art Collection; Dublin Writers Museum, Ireland; Irish Embassy, London; Ireland's Great Hunger Museum, Quinnipiac University, USA; Siena Art Institute, Italy; Urawa Wood-Cut Prints Association, Japan.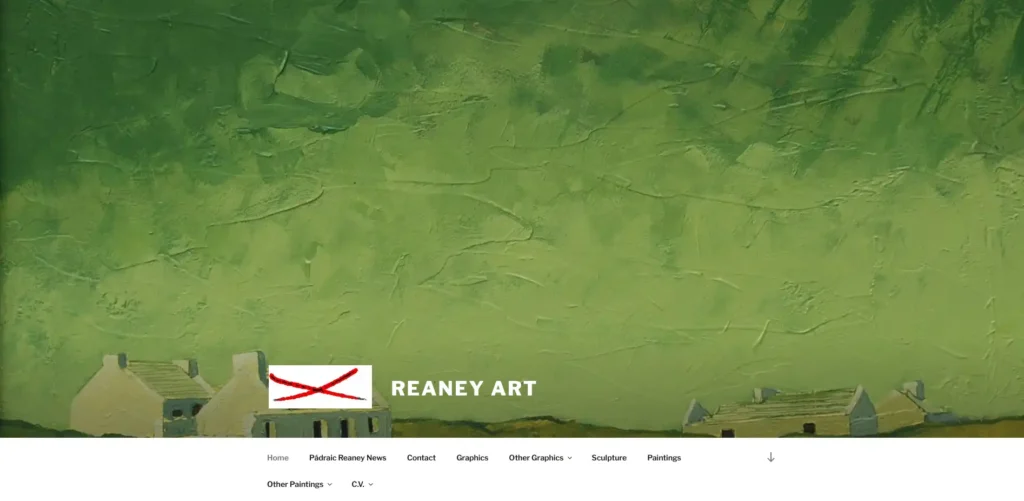 International Reputation
Reaney's international reputation has grown over the years, and in particular his work on The Táin and his interpretation of the legacy of An Gorta Mór/The Great Irish Famine have won him wide critical acclaim as a key figure in contemporary Irish visual arts. He represented Ireland in the XVIth Grand Prix International d'Arts Contempora in de Monte Carlo in 1982. A film was made of one of his exhibitions based on The Táin, which was R.T.É.'s entry in the Pan Celtic International Film Festival for 1988 – it was one of the three top films in the festival. In 1996 he was invited to Scotland by the North Ayrshire Council to undertake a series of exhibitions on the Isles and the West Coast of Scotland.

Work in Ireland
A founder member of Western Artists, Island Connection, and Drimcong Press (with Brian Bourke and Jay Murphy), Reaney was awarded the Pádraic Mac Con Midhe Prize at the Oireachtas in 1979 to make a series of etchings recording the rapidly disappearing thatched houses in Ros an Mhíl, Connemara. He later exhibited a series of photographs based on this work of the ruined cottages in Ros an Mhíl (1979-1983) at the Galway City Museum, July-October 2008. Reaney was appointed to the Board of Directors of the Galway Arts Centre in 1996 and served on the Board until 1999.

Reaney was commissioned to design the Liam Ó Flaherty Commemorative Garden on Inishmore, Aran and to create a piece of bronze sculpture for the garden which was unveiled by Minister Eamon Ó Cuív when the garden was officially opened. Also in 2006, Reaney curated the successful Project 06 Exhibition, The Irish Eye in the Kenny Gallery. In 2007 he curated The Oliver Gogarty 50th Anniversary Art Exhibition, at the Renvyle House Hotel.

His Lawrence town piece, which was commissioned by the Galway County Council, is a seven- foot bronze piece depicting the story of Diarmaid and Gráinne. He was commissioned by the Galway Chamber of Commerce to design the Paddy Ryan Memorial Medal which was presented to the speaker at the first Paddy Ryan Memorial Lecture at NUI Galway in 2007. He has also had work commissioned from the Irish National Parks & Wildlife Service over the years. His work is in great demand for book covers and illustrations, and he has recently created a series of striking wall hangings done in the studio of V'Soske Joyce, now Dixons Carpets, Connemara.